Hi there,
today, I found something very intesting in the blog of Christian Heeren. His page was linked in the Digsby Forum and he teaches, how to get your studiVZ or meinVZ contacts in your Instant Messanger.
Though meinVZ is not really important to me (I nearly don't use it), this might be interesting for you.
This is, how it goes: http://unfake.it/pPJ
This evening, I thought about setting up a flickr and a twitter account. Okay, okay… I did not just think about it, I did it. What a freakin' show…
After setting up my accounts, which was very simple, I began to link 'em to facebook and back, I uploaded photos and back… And as I did this, I began wondering. "What the hell…?! What am I doing? All the information on every site and every picture on and in each account?"
I drawed a very simple drawing and I now have a question:
Is this, what Web 2.0 is supposed to be?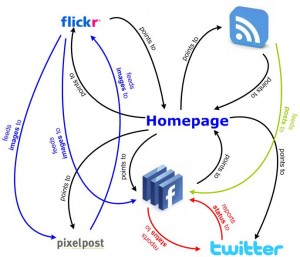 What do we have?
a homepage
a facebook account
a blog
a twitter account
a flickr account
maybe a online diary
maybe a guestbook
maybe a photo blog
maybe a gallery
maybe a Google account (grabbing feeds and more…)
maybe this and
maybe that
And they all talk to each other. Am I the only one on this planet, who is very, very confused with all those sites and applications? 🙂